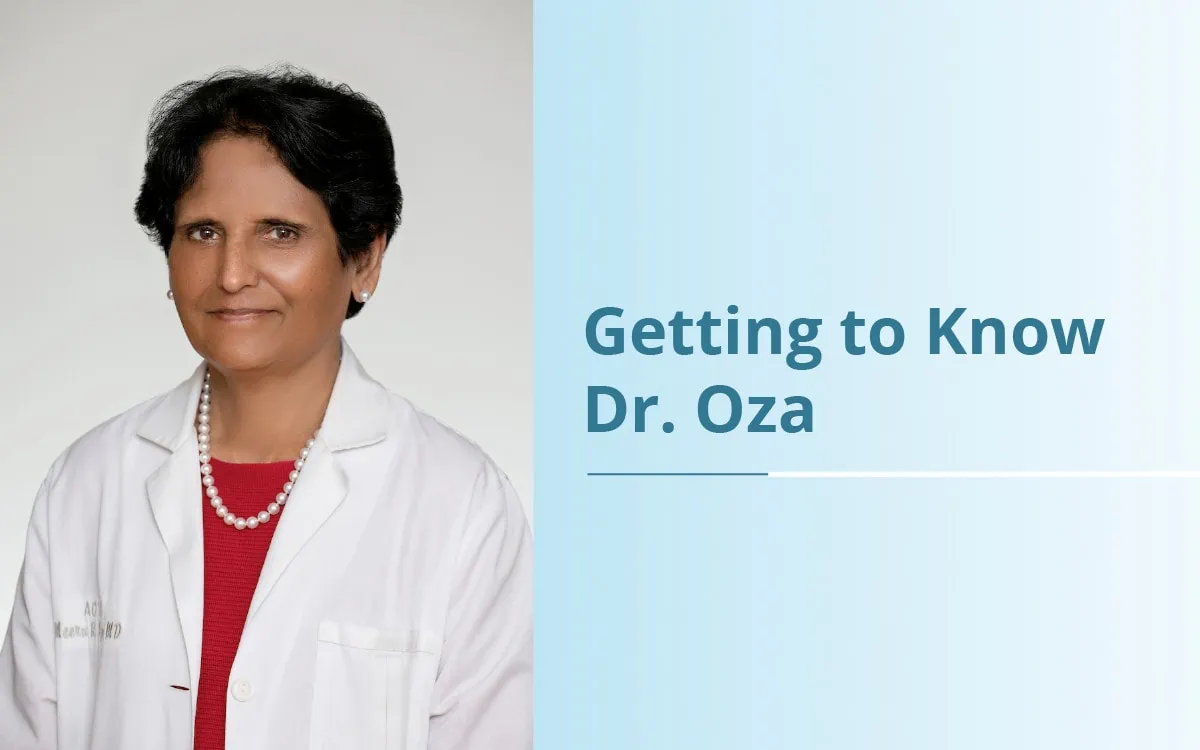 Getting to Know Dr. Meera Oza, M.D.
When Dr. Meera Oza, M.D. began her career in rheumatology nearly forty years ago, her mission was to make a difference in the lives of every patient she served and provide the most personalized care possible.
Today, that mission remains a top priority for our team at Arthritis and Osteoporosis Treatment Center. We sat down with Dr. Oza to learn more about her background, experience, and unique approach to patient care.
Q: Good morning, Dr. Oza. To start off, tell us a little bit about yourself.
I attended medical school at Lady Harding Medical College in India and finished my internal medicine and rheumatology training at Wayne State University in Detroit, Michigan. I am a fellow of the American College of Rheumatology and am board certified in Internal Medicine and Rheumatology. I am a past president of the Florida Rheumatology society and I have served as board member for 20 years. I served in the American college of Rheumatology in the advocacy committee, associated council of state society and in a sub insurance committee. I am a member of several professional societies.
After completing my medical training in 1985, I moved to Orange Park from Michigan to begin my own practice. It was very challenging at first. I came to Florida by myself to see if I could be successful, leaving my husband and seven-year-old son in Michigan. Thankfully, things worked out and my husband and son joined me in Orange Park a year later. We've all lived here ever since.
Q: Why did you choose to specialize in rheumatology?
One day during my CCU rotation as an intern, an elderly lady came to the ER for knee pain and swelling. Her pain was ignored due to an abnormal EKG, but I made sure to consult a rheumatologist. A rheumatology fellow came and drained her knee, and that relieved her pain. She was so happy that she did not care about her possible heart attack and was ready to go home! That's what showed me how vital rheumatology is. Joints are often ignored in medicine because they aren't considered vital organs, but they are so vital to our wellbeing. That is why I love what I do as a rheumatologist.
Q: Why did you decide to start your own practice in Orange Park, FL?
I didn't know where I wanted to go after my fellowship in rheumatology, but I knew I wanted to escape the cold. A doctor from my program told me that there were no rheumatologists here in Orange Park, so I came and visited. That's when my family and I fell in love with the area.
Back then, there was some pushback against seeing a female doctor. Other primary physicians felt the specialty of rheumatology was not needed in the area. I didn't want to go back to Michigan, so despite my gender and race, I decided to begin my own practice.
In my first few months, I only saw about ten patients. One day, a prominent local primary care physician brought his wife to me for lupus treatment. Her treatment went very well and led us to develop a friendship.
From then on, the physician began referring to me. I began to see more and more patients each month, and my practice took off. I've worked as a solo practitioner for the majority of my career since then as I enjoy the autonomy, but my nurse practitioner Maryann and my physician assistant Pinki have been with me for the past 18 years. They are wonderful to work with and very well liked by our patients.
Now, I'm so excited to have Dr. Kollampare practicing with me. Our team jokes she is like my clone, because we take such a similar approach to medicine and patient care. She is so wonderful and we really learn from each other.
Q: What is your approach to patient care?
I love making a difference in the lives of my patients. Seeing my patients go from a wheelchair to a walker or cane is very rewarding. Even though I'll be 75 this year, I don't ever think about retiring. I give 100 percent of my heart and mind to treating patients.
As soon as I step into my practice, I forget about the whole world. It gives me great pleasure to take care of my patients, as nothing is as important to me in my life. I aim to treat patients with kindness and compassion and treat each one as a whole person.
My patients here become my friends, and I take time to listen to their every need or complaint. When they are in front of me, I make sure to give them all of my attention. I want them to feel special and cared for on a personal level.
Q: What does it mean for you to have served the Jacksonville, FL community for nearly 40 years?
I have served the Jacksonville community for 38 years, and it is truly empowering to help my patients. My practice is considered the best comprehensive care practice in Jacksonville, and I have patients that visit from other cities, states, and even countries.
I am very proud of the Arthritis and Osteoporosis Treatment Center, and I am very proud to help my patients. Even when I'm not feeling well, my patients are the only thing I think of. I feel as though the Lord chose me for this work and to take care of people.
Q: What new advancements or arthritis treatments are you most excited about?
There are many new targeted treatments coming out, especially for lupus and psoriatic arthritis. The FDA has also just approved a new drug to treat scleroderma, which is a serious condition with very few treatment options. We are excited to begin working with this new medication for our suffering patients with that condition.
Our practice is also becoming more involved with targeted treatments based on genetic testing for rheumatoid arthritis. The genetic tests can tell us how the patient will respond to medications so that we can better determine the right treatment plan and bypass medications that will not help them.
Treatments for autoimmune disease have come so far in the last forty years. When I began my fellowship, there were very few treatments available for autoimmune conditions. However, with so many new treatments on the horizon, it is an exciting time to be a rheumatologist.
Book an Appointment With Dr. Oza in Jacksonville, FL
Dr. Oza works in-office at our location in Orange Park. Her outstanding career has been dedicated to excellent patient care and joint support. To book an appointment with Dr. Oza or her team, click here or call (904) 276-0001.