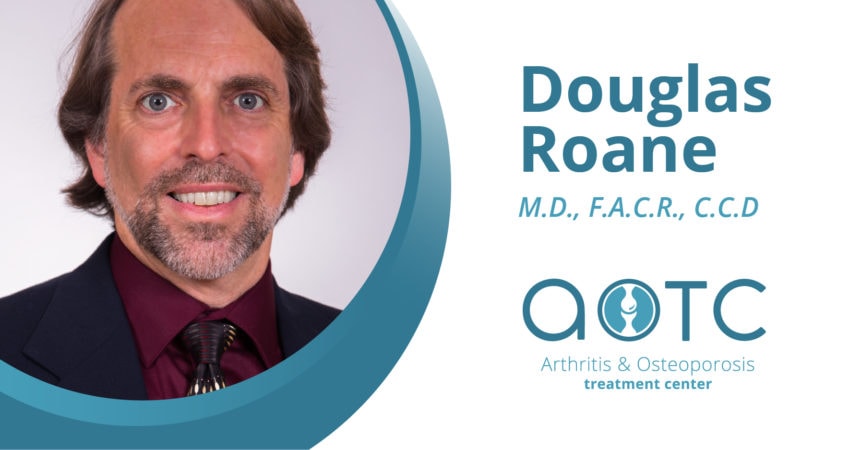 Meet Dr. Roane, M.D., FACR, CCD
Dr. Douglas Roane joined the Arthritis and Osteoporosis Treatment Center in the fall of 2016. A graduate of Oral Roberts University in Tulsa Oklahoma, Dr. Roane completed his Internal Medicine and Rheumatology residency in the Air Force and spent 17 years in private practice before joining the practice.
Tell us a little bit about your background and how you got into rheumatology?
I always wanted to go into internal medicine because I didn't feel like my personality was suited for surgery. I am more of a diagnostician. During my internal medicine residency, my program director was an enthusiastic, dynamic instructor with a specialty in rheumatology. The field of rheumatology offered complex diseases that other specialties didn't which got me intrigued about rheumatology.
Tell us about your job experience, prior to joining the Arthritis and Osteoporosis Treatment Center?
I was raised in Montana, so after my service in the Air Force, I wanted to return to Montana. I joined a private practice in Billings where I treated patients with a full spectrum of autoimmune and rheumatological disorders. My wife and I spent 17 years in Montana until she had enough of the cold winters. As a California native, she wanted warmer weather so we moved to Florida.
What is your favorite part about your role?
I like to see patients when they come and tell me that they are feeling better. Oftentimes, patients are anxious when they first visit. They are in pain and their lifestyle is hampered by their conditions. Once I can help them, they come back and they tell me that they feel better. I get a great deal of satisfaction out of improving the quality of my patients' lives through treatment.
I also am very happy when patients tell me that they feel listened to. They should have a physician who listens to their concerns and understands what they are going through. I focus on communicating with my patients to help them understand their disease process, treatment options, and learn what their expectations are. I find that patients have a lot less anxiety and feel more confident in their physician when they understand the disease, they can ask questions, and the doctor isn't rushing them through a visit.
If you could give a patient one piece of advice, what would it be?
Don't give up until you are satisfied that your physician has listened to you, and don't be satisfied with partial improvement.
What do you like to do in your spare time?
I love getting out into nature. My wife and I own horses and we like to horseback ride and backpack. I have a passion for landscape photography as well. I love to take pictures that make the viewer feel like they can walk right into the picture.
Anything additional you'd like to add?
I am a certified in clinical densitometry, which means I am trained in reading bone scans to detect and diagnose osteoporosis. I'm thankful to be able to share my knowledge and expertise with patients in the Jacksonville area that are struggling with rheumatologic and autoimmune diseases.