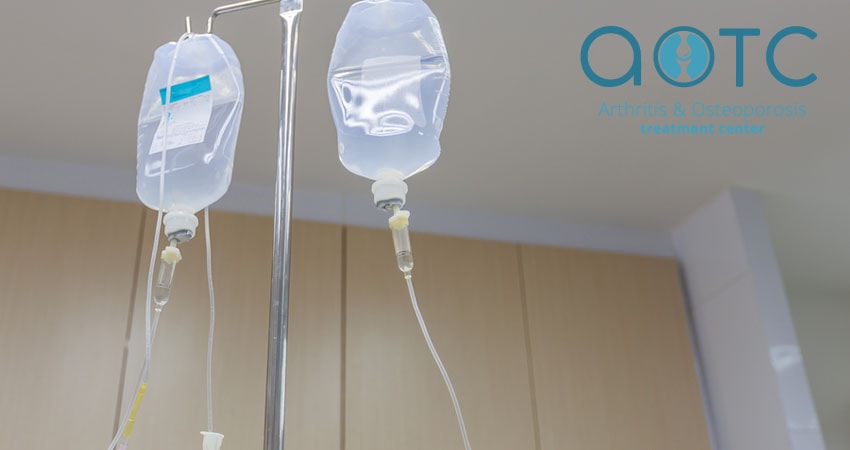 Benefits of IV Infusion Therapy
Have you been diagnosed with rheumatoid arthritis? If so, then there's a good chance your doctor or rheumatologist has put you on medication in an attempt to treat and manage your symptoms. Unfortunately, not everybody responds well to traditional arthritis treatment (such as TNF inhibitors).
If you haven't seen improvement from your current treatment for rheumatoid arthritis, the good news is that there are alternative options to consider. IV infusion therapy in the form of Rituximab can be used to treat symptoms and manage this form of arthritis.
How it Works
IV infusion therapy works through an IV drip. The active drug Rituximab is infused into the body through an IV and into a vein in a session that can take anywhere from two to four hours. Typically, the treatment is performed once every 15 days.
Patients who undergo IV infusion therapy for rheumatoid arthritis typically begin to experience improvement of their symptoms within about a month and a half from the first treatment session. These improvements can last for up to nine months. The results are due to Rituximab, which is able to reduce inflammation associated with rheumatoid arthritis and help patients find relief from pain and other symptoms.
What You Need to Know
Not all rheumatoid arthritis patients are viable candidates for this treatment. You should speak with a qualified rheumatologist about your options. While side effects do not tend to be severe, some patients report a drop in blood pressure following their treatments. If you are currently on a medication to control your blood pressure, your doctor may recommend that you stop taking it prior to your first IV infusion therapy appointment.
Generally, side effects of this treatment dissipate within the first 24 hours, but may include:
Dizziness

Nausea

Upset stomach

Muscle stiffness

Sweating

Flu-like symptoms

Neck and back pain
If you've been diagnosed with rheumatoid arthritis and haven't seen improvement with traditional treatment methods, it may be time to consider IV infusion therapy. Our doctors at Arthritis & Osteoporosis Treatment Center in Orange Park would be happy to consult with you and determine whether or not you're a viable candidate for this treatment. If you are living with rheumatoid arthritis in Jacksonville, contact us today to schedule your appointment with Dr. Meera Oza or Dr. Douglas Roane.