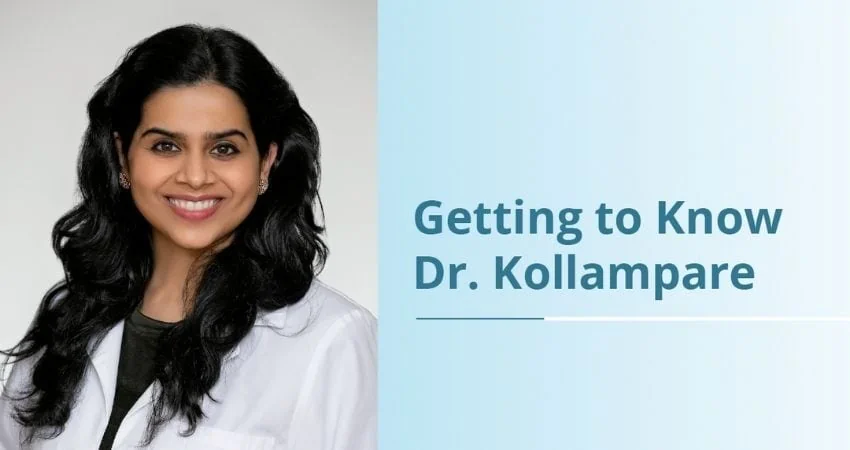 Getting to Know Dr. Shubha Kollampare, M.D.
Arthritis and Osteoporosis Treatment Center of Orange Park is a leading care center for those with arthritis, rheumatologic diseases, systemic autoimmune diseases, and osteoporosis. In line with our mission to provide outstanding and personalized patient care, we are thrilled to welcome another highly-skilled physician to our team of talented providers.
Shubha Kollampare, M.D. completed her Internal Medicine residency and Rheumatology fellowship at the University of Arizona, Tucson, and will be a great asset to our practice at AOTC. We sat down with Dr. Kollampare to learn more about her background, experience, and how she plans to contribute to AOTC's state-of-the-art patient care.
Q: Good morning, Dr. Kollampare. To start off, tell us a little bit about yourself.
A: I'm originally from South India, and grew up there before moving to the United States. Most recently, my family moved to Florida from Delaware, where I practiced rheumatology for three years. I'm enjoying life and the weather here in Northeast Florida, as it reminds me of my home in South India.
I love spending time with my son, who is almost two years old now. I also love singing and listening to Carnatic music, which is a form of classical music from Southern India.
Q: Why did you choose to specialize in rheumatology?
A: I'm very hands-on in my approach, and I like the aspect of history-taking and physical examination. During my residency, I felt at home during my rheumatology rotations. I realized that I enjoy talking to patients and helping them arrive at the right diagnosis.
In rheumatology, you have to be a detective. Some patients have autoimmune diseases that don't always fully manifest. It takes skill and attention to detail to arrive at a diagnosis and find the right treatment to help my patients.
Q: What is your approach to patient care?
A: I treat my patients like family, with kindness and compassion. I want the best for them and I will be their advocate.
Every aspect of working with a patient is important to me. When I enter the patient's room, I don't think about anything but the patient. This way, I can figure out what is wrong, how to get their disease under control, and how to help them.
Q: What is the most satisfying part of your work?
A: When I find the right treatment for my patient, it is the ultimate sense of accomplishment and happiness that drives me to keep going. I am very passionate about helping patients. It gives me great pleasure to see my patients doing well. Finding the right treatment gives me an ultimate sense of satisfaction and happiness.
Q: What new advancements in treatments are you most excited about?
A: I am excited about the availability of the new biologic medication, Saphnelo, that targets Lupus. The medicine is FDA-approved to treat certain types of Lupus by targeting type I interferon receptors. This will decrease inflammation and subside other symptoms of the autoimmune disease. It will be a real game-changer for many Lupus patients.
Q: What has been your greatest professional achievement so far?
A: My greatest professional achievement is the fact that I became a rheumatologist. I used to be a homemaker. I had no plans to go back into medicine, but I felt that I had qualities that were not being put into effect. It's a huge accomplishment for me that I became a rheumatologist and can help patients every day.
Q: What are your goals coming into your position at Arthritis & Osteoporosis Treatment Center?
A: My goals are to work as hard as possible and to make sure that I am providing the best care possible for patients. I aim to keep myself abreast with the current guidelines and provide state-of-the-art care to my patients.
Book an Appointment With Dr. Kollampare
Dr. Kollampare works in-office at our location in Orange Park. She is dedicated to excellent patient care and is known for her compassion and attention to detail. To book an appointment with Dr. Kollampare, click here or call (904) 276-0001.